Stage 1
With a Morocco research trip lined up for February 2004, I set about fixing the 190 up for a bit of stony off-roading. For the moment this added up to:
• Bigger tyres
• Taller suspension
• Bashplate
• New clutch
While I was in the Gilf over
Christmas I left the car with Andy at Allisport in Gloucestershire with instructions to replace the oil-soaked plastic 'bashplate' with something with more of a clank to it. A month later AlliAndy had done a great job. How rare is is that you ask someone to make a custom fabrication and get exactly what you asked for. The plate (right) was 1.5 metre long, covering the sump and gearbox, with a special cowling going up round the front to protect the bottom of the radiator, a weak point when road cars nosedive off dunes which they have to attack faster than a 4WD.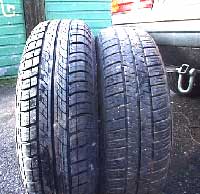 With the bash fitted, the car still refused to blow up in my face so I set about sourcing some tyres. I didn't want off-road tyres, as long as it's dry normal road tyres work fine in the desert at low pressures. But I wanted something a tad taller than the normal 185/70 15s. Only a few tyre websites offer full details of dimensions, but Continental was one of them (or at least they replied to the enquiry fast): Their reinforced Vancos were 655mm tall over the standard 625mm (picture, left). Once the suspension was raised they'd fit in - probably - and the width was only 20mm greater so hopefully would not foul the shocks or body. My Tyres did five Conti Vanco Contact 195/70 R15 97T RF (reinforced) for 40 quid each, mail order.
Mercedian Desert Dealer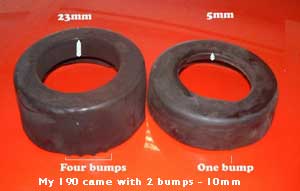 Gerbert advised me that jacking up a 190 was easy - you just replaced the spring pads on top of the coil springs; they are available in various thicknesses. He usually does it on the way out in Morocco or Tunisia as its a tricky job. I was not so sure about stressing the original springs with thicker pads as I had a few trips in mind and one spring had recently been replaced. So I ordered a set of new springs from Coil Springs in Sheffield, recommended by Matt. My request was an educated guess: 20% heavier duty and about half an inch longer. I wasn't after a radical lift as I didn't want to stress the steering or final drive joints and didn't really know what I was doing. And anyway, the 20% HD would keep it high. (FYI, 190s are more typically lowered; apparently it looks mean and sparks nicely off speed humps...) I learned that, with independent suspension, an inch at the spring mounted half way along the wishbone adds up to double that at the wheel (basic geometry) so Coil Springs asked me for loaded and unloaded measurements and got on with it.
Fitting them was indeed a nasty job, especially on the back where Coil's version was way too long and caused much aggro until I finally worked this out. They chopped them down a bit and sent them back quick. But even with spring compressors it took a few African solutions to 'explode' them into place, and not without some blood and bruises. At the same time I slapped on standard new shocks. With the car jacked up I went round the block waiting for something to snap, and then nipped off up the road to Derbyshire.
I'd booked in for some surgery at the new The Matt Savage Overland Research Establishment who was up for a bit of metal bashing with the help from his old mate, Barry. Various bits were ordered off Eurocar Parts or GSF including a clutch kit (who knows how old the current one was) a spare water pump, belts, hoses and filters. And, a bit of extravagance: a 5L tin of 'NATO Sand' paint from Anchor. I've always wanted a car this colour, and the 190 is to be the new flagship of Sahara Overland after all.
By a stroke of luck a guy in the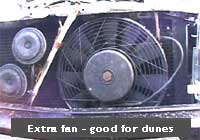 barn next to Matt's was scraping his 190 and invited Matt and myself to pick it clean and dump it for him. An hour later we'd grabbed the top front shock bushes, rad, blower fan (it was an auto) lights, wheels and ash tray. After just four days Barry emerged from his shed with all boxes ticked: new clutch, respray, new upper shock bushes, fuel/brake line protection plate and an extra fan - and at a great price too. It would have taken me weeks to make a mess of the same job.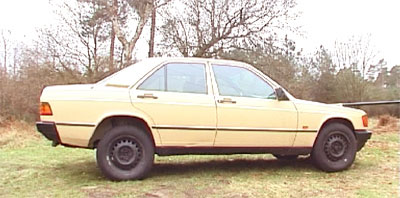 A week later I picked up the 190, blueprinted to FIM-approved Desert - Stage One spec. The height looked just as I'd envisaged it: a couple of inches at the front and double that at the back where the weight will go. Driving it with all the old wheels and other junk in the boot was just right, a bit firmer and higher but nothing weird. And, praise the Lord, that infernal for-aft wobbling was all but gone. Was it the new clutch or prop grease. Who knows, we reckon it's the anti-radar paint.
January 2004
Read about the Morocco test run