"I cannot recommend this book highly enough. It is the first word, the last word, and if there is such a thing, the middle word, on overlanding. Buy it - you won't regret it."
................................................................................. SA 4x4 magazine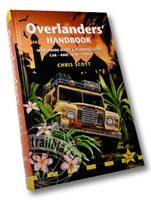 Overlanders' Handbook is the

latest Trailblazer title from Chris Scott.
OLH is similar to Chris's Sahara Overland or Morocco Overland but covers all of Africa, Asia and Latin America. It's like his Adventure Motorcycling Handbook but for cars, vans, 4x4s and trucks.
Written in the same clear, jargon-free English, OLH hosts a planet-spanning cast of nearly 50 contributors, who between them have done it all.
The book features Continental Route Outlines for Africa, Asia and Latin America as well as Travellers' Tales written by overlanders aged from 9 to nearly 70.

Other subjects include:
• Planning, preparation and documentation
• Vehicle choice - from a regular 2WD car or van to an AWD truck
• Overlanding with children
• Outfitting a vehicle for long-term travel
• Guidelines on building your own motorhome-style cabin
• Life on the road: borders, wild camping, money changing, scams
• Off-road driving and recovery techniques
• Navigation using maps, GPS and common sense
• Short- and long-range communications
• Travellers health; a comprehensive resource on the road
• Travelling with dogs
• Vehicle troubleshooting and repairs
• The last word on intercontinental single-vehicle shipping
• One-page Overlanders' trip summaries
• Continental Route Outlines for Africa, Asia and Latin America
• Notes from the Road from people who've been there and done it
• Distribution: worldwide
• ISBN: 978-1-905864-07-2
• Extent: 752 pages
• RR price: £24.99/US$39.95/€30~
---
Recent reviews
... I cannot
recommend this book highly enough. It is the first word, the last word, and if there is such a thing, the middle word, on overlanding. Buy it - you won't regret it. Read full review

...
Chris on the other hand tells it like it is [and] his dry humour and his style and approach provide positive encouragement for prospective adventurers. So, buy this book, plan carefully, prepare well, remain flexible and turn your overland dream into a reality.
... this book has more useful information in it than any ... other book or magazine I have ever picked up. Finally a true guide

amazon.co.uk
Finally a true guide

amazon.com
... there is nothing else quite like this out there
.. [it] covers every topic imaginable...

Read full review
steers ... the reader towards the most cost-effective solutions and [...] real advice, country by country

Read full review
... packed with information on overlanding, we reckon it's worth £24.99 of anybody's money

Read full review
... absolutely mandatory reading for anyone contemplating overland travel... Already a veteran? Trust me, you'll still learn something...